Getting to Know the UNewHaven Makerspaces
Date, Time, Location: Friday November 3rd, 10:30 AM-11:30 AM. Zoom Meeting
Where: On Zoom, click here to join.
We welcome faculty from all disciplines to join the Center for Teaching Excellence for an introduction (or reintroduction if it's a while) to the Schaub Makerspace. This workshop aims to be an entry into the Makerspace for faculty who may not know how to start interacting with this creative and innovative space on campus. We will explore all the equipment and possibilities open for all students and faculty. This event can also serve as a primer for an upcoming workshop on integrating the Makerspace into course work.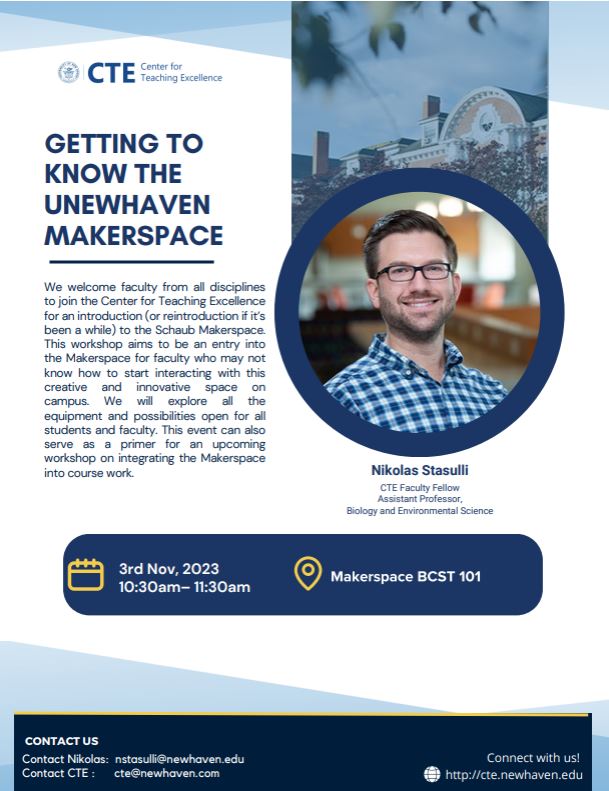 Intelligent Futures: Navigating the Integration of AI in Academic Pedagogy
Date, Time, Location: Friday November 17th, 10:30 AM-11:30 AM. Zoom Meeting
Where: On Zoom, click here to join.
In this panel discussion, UNewHaven educators and technology experts will discuss the transformative role of artificial intelligence (AI) in higher education teaching methodologies. Participants will engage in critical conversations surrounding the implications of AI in education, and provide personal examples on how they have been preparing their students and integrating AI driven tools, such as ChatGPT. The objective of this panel is to foster a deeper understanding of AI's educational impact.