About the Program
Read about the philosophy behind Faculty Fellows and learn about the program expectations.
Meet the Fellows
Meet the instructors currently serving as Faculty Fellows and read about their contributions to the CTE.
Apply to be a Fellow
The application process is currently closed. We will keep you posted about new opportunities at the Center for Teaching Excellence.
The Faculty Fellows Program is designed to give our faculty leadership experience in a professional development area (e.g., Scholarship of Teaching and Learning (SoTL), teaching online, leveraging the makerspace, inclusive pedagogy, community engagement, high-impact practices) as they work as CTE staff to prepare programming and deliverables in their area of expertise that will enhance pedagogy across the university. 
The CTE would like to invite applicants to apply for two CTE Faculty Fellows for AY 2023-2024. The fellows' area of expertise is open, but examples include: training and mentoring graduate teaching assistants, integrating technology in teaching and learning, inclusive pedagogy, active learning strategies, effective grading and assessments, community engagement and building, scholarship of teaching and learning, or course/curriculum design. 
CTE Faculty Fellows will support the CTE's services. Expected responsibilities include, but not limited to, the following: 
1- organize and present at least 2 CTE-sponsored workshops per year on their area of expertise 
2- provide confidential formative teaching observations
3- provide teaching consultations to faculty members
4- participate in CTE meetings and events
5- participate in Professional Development Day and New Faculty Orientation in August
6- assist in inviting internal and external guest speakers
7- keep an activity log and prepare a final reflection at the end of the Faculty Fellowship. 
Faculty fellows should expect to allot around 5 hours of their time to the CTE each week. Faculty fellows will receive a $4,000 Faculty Fellows Stipend and a 3-credit course release per year. This release should be supported by the chair of your department and the dean of your college, before submitting the application. The CTE fellows will commit to a one-year term, with the option to renew for a second year with recommendation of the CTE director and the approval of the provost. Appointments will most likely begin in August 2023 and the fellows are expected to attend the Professional Development Day and New Faculty Orientation a week before classes begin. 
Application Process
The Center for Teaching Excellence (CTE) is announcing an application call for CTE Faculty Fellows for AY 23/24. Applications are due by April 7, 2023.  To apply, please fill this form. Applications will be reviewed by the CTE Director, Dr. Houssein El Turkey, Assistant Provost for Assessment and Faculty Development, Dr. Maria-Isabel Carnasciali, and current CTE Faculty Fellow Dr. Danielle Cooper. Announcements of selected Faculty Fellows will be communicated at the end of Spring 2023 semester.
Please contact the CTE (cte@newhaven.edu) with any questions.
Cassandra Sedelmaier
Lecturer • Criminal Justice
Cassandra Sedelmaier is a graduate of the University of New Haven with a B.S. in Criminal
Justice (Investigative Services) and M.S. in National Security and Public Safety. She started her
career as an investigator, working primarily in private investigation and surveillance, financial
fraud, and anti-counterfeiting cases. Cassandra left criminal justice to become a full-time
educator, and attended Quinnipiac University's Master of Arts in Teaching program. Her
graduate research was on the use of restorative justice/restorative practice to disrupt the
school to prison pipeline. Prior to joining UNewHaven full-time, she worked in public education,
first supporting special education and English Language Learners in the classroom, providing
1:1 and small group instruction and instructional support, and then as a junior and senior AP
and social science teacher. As a teacher, she witnessed firsthand the impact of the pandemic on
high school students who are now graduating and entering universities with very diverse
learning needs. As we adapt our practice to meet the needs of our many diverse learners and
cultivate scholarship in students that have struggled with the negative impacts of the pandemic,
her intimate knowledge of where they are coming from educationally and the approaches to
learning they are most familiar with can make significant contributions to the faculty.
Cassandra looks forward to supporting the CTE's mission of promoting inclusive, high-impact
teaching throughout the university. She hopes to serve as a resource to colleagues, especially
beginning faculty who may be new to the classroom and our team of graduate students who are
beginning their first semesters of teaching. She is looking forward to providing programs on
topics such as accessibility, culturally responsive instruction. Working with the CTE will help
her grow as a teacher and a scholar, and she is excited to support the culture of effective
teaching throughout the university. Cassandra can be reached at
cmsedelmaier@newhaven.edu.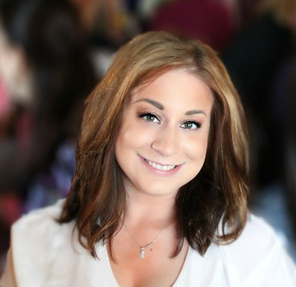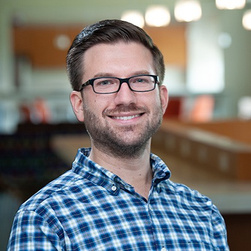 Nikolas Stasulli
Assistant Professor • Biology and Environmental Science
Dr. Nikolas Stasulli is an assistant professor and program coordinator in the Biology and
Environmental Science Department, and has also been a Makerspace Faculty Fellow at
the University of New Haven. Dr. Stasulli is a microbiologist and conducts research
focusing on microbial communities in the environment. His studies focus both on
community member profiling through DNA sequencing and identifying bacterial
interactions through chemical signaling between species.
Prior to joining the University in 2018, Dr. Stasulli received a NIH-funded IRACDA
teaching post-doctoral fellowship and has continued to focus on developing and
implementing inclusive pedagogy throughout his time at UNewHaven. As a CTE Faculty
Fellow, he will focus on integrating accessible technology into active, engaging
classroom activities. Specifically, he wants to share opportunities for integrating digital
platforms, like Hypothes.is, and physical spaces, like the UNewHaven Makerspace, into
the classroom in a way that provides all students opportunities for additional topic
engagement.
Dr. Stasulli looks forward to his time as a CTE Faculty Fellow, and hopes that his
workshops through the CTE will lead to increased student engagement and interactions
in the classroom. He can be reached at nstasulli@newhaven.edu.
Mehdi Mekni
Associate Professor • Computer Science
Dr. Mehdi Mekni is an accomplished scholar and researcher with a strong background in
computer science and education. He is currently an Associate Professor of Computer
Science and Program Director at the University of New Haven, where he also serves as the
Director of the Laboratory for Applied Software Engineering Research (LASER).
Dr. Mekni's research interests focus on the intersection of computer science and education,
with a particular emphasis on gamification in education. He has conducted extensive
research on the use of games and game-like elements to enhance the learning experience
for students across a range of subject areas, from engineering and science to cybersecurity
and computational thinking. Dr. Mekni's work in this area has been widely published and
cited, and he is recognized as a leading expert in the field of gamification in education.
Dr. Mekni's research is characterized by its interdisciplinary nature and its focus on
practical applications. He is committed to developing innovative and effective approaches to
teaching and learning that leverage the power of technology to engage students and
improve educational outcomes. Dr. Mekni's work has been supported by a variety of grants
and awards, and he has collaborated with a range of academic and industry partners to
bring his research to fruition.
Dr. Mekni looks forward to his time as a CTE Faculty Fellow; his focus will be on
gamification in education to improve learning outcomes. He can be reached at
mmekni@newhaven.edu.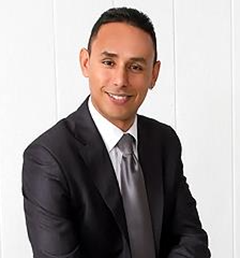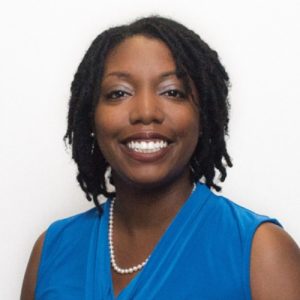 Danielle Cooper
Associate Professor • Criminal Justice
Dr. Danielle Cooper is an Associate Professor of Criminal Justice and the Director of Research at the Tow Youth Justice Institute at the University of New Haven. Dr. Cooper currently conducts research in the areas of youths and young adults, juvenile justice and delinquency prevention, criminological theory, and sex offending.
In addition to her work as a Professor and the Director of Research at UNH, she is also a Certified Prevention Professional who is committed to community connections, Dr. Cooper has had the opportunity to work locally in New Haven and West Haven, as well as statewide with a variety of entities. In her role as an inaugural CTE Faculty Fellow, she will share her experiences about how these partnerships have been used a) to increase our students' engagement and critical thinking around global topics (e.g., justice policy issues), b) to collaboratively build class content that takes a real-world approach, and c) to secure funding to bring educational content to practitioners in the field.
Dr. Cooper is committed to facilitating discussions around best practices and to helping refocus faculty attention in a healthy and student-centered way, while also advocating for the well-being of faculty and staff. Find more about her at @PreventionDani on Facebook, LinkedIn, and Twitter. Her email address is dcooper@newhaven.edu.
Houssein El Turkey
Associate Professor • Math
Dr. Houssein El Turkey is currently an associate professor of Mathematics. Since arriving at the University of New Haven in 2014, he has been a part of multi-institutional research group studying mathematical creativity, which has secured an NSF-IUSE grant to explore connections between mathematical creativity and mathematical identity in the Calculus classroom. He has co-authored several publications and presentations in the field of Research in Undergraduate Mathematics Education (RUME).
As a CTE fellow, he will share his research expertise as RUME researcher to work with interested faculty in starting research in SoTL. Using his background in active-learning methodologies, he is interested in working with faculty on identifying changes we can make in our teaching methods to allow for an active classroom. These could range from minimal to a complete flip of the standard lecture. Tangentially, he is interested in exploring with faculty equitable and inclusive teaching practices. Beyond the classroom, he would like to have open discussions with faculty on effective mentoring (and advising) of students. To achieve these goals, he hopes to organize interactive workshops, guest lectures, or panel discussions on these different topics. He will also participate in preparing recommendation reports that include research-based readings and online webinars on the aforementioned topics.
 He can be reached at helturkey@newhaven.edu.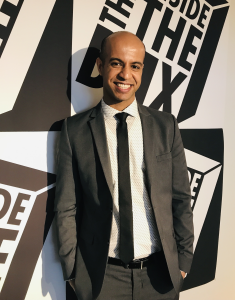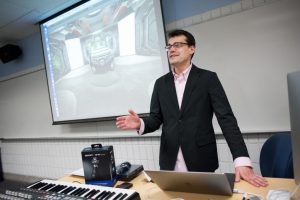 Simon Hutchinson
Assistant Professor • Music
Simon Hutchinson is a creator and teacher of music, audio, and things tangentially related. He teaches classes on a broad range of musical topics, including interactive media, composition, music technology, world music, and music theory. He has taught at the University of Oregon, University of Montana, Gordon College, and he is currently Assistant Professor of Music Technology in the Division of Performing Arts.
​Through his work as a CTE Fellow, Simon Hutchinson will draw on his background teaching art and technology to offer workshops to discuss strategies for personalizing online learning, developing effective creative projects, and teaching technology to students with diverse backgrounds.
​Simon is focused on designing accessible courses that hold students accountable for quality thought and academic rigor, and is excited to share his strategies and experience.
Simon can be reached at SHutchinson@newhaven.edu.