In October 2020, the CTE ran a panel discussion on time-saving hacks for grading efficiently.
Lauren Boasso
,
Stephanie Gillespie
and
Kristen Seda
shared ways that they have been able to make the most out of their grading time. For those who couldn't attend the session we're sharing a summary of the discussion in three parts, Part 1 covers some quick tips and Professor Seda's suggestions for audio-recording or screen-casting feedback.
A big thank you to our collaborators for sharing their resources and experiences!
As we discussed in the workshop, efficiency and effectiveness do not have to be conflicting concepts. We hope to provide you with some actionable steps you can take to find the balanced approach that will work for you.
You can also visit
myCharger
to view the recording and presentation slides.
The suggestions below are easy-to-implement approaches for saving time on grading while still ensuring students receive helpful feedback.
Create codes.

Using

rubric codes

, instructors create a "code" for every item on the rubric and use the codes to show students where they can improve, rather than writing lengthy comments or filling out the rubric.

Time yourself

. Some instructors find it helpful to set a time limit for how long they spend grading each assignment.

Try holistic scoring

. In

this rubric-based approach

, broad descriptions are used for each level of performance rather than having multiple levels for different categories. Assignments are graded as a whole rather than as a sum of the parts.

Identify patterns.

Let your students know that you'll be identifying each type of mistake once, and they are responsible for identifying and fixing that mistake, or similar mistakes, throughout the rest of the assignment.

Ask for a cover memo

. Ask students to write a memo to you that details the questions they have about their own writing, so you can tailor your feedback to those specific concerns. This works particularly well for drafts.

Pick one assignment.

Have students do a series of assignments and you pick one or a few to grade or give heavy feedback on.
o Composition studies scholar Doug Hesse
has suggested giving students
"vouchers"
in classes with multiple writing assignments. These vouchers are good for one detailed round of feedback per semester, during which the instructor reviews the paper as if it were a manuscript submitted to a journal. This is another potential approach for managing feedback expectations and, ultimately, your time.
Leverage Canvas features.

Canvas offers a

variety of tools

and settings to help instructors track assignments. For example, you can update your settings so Canvas automatically grades late assignments by applying your late penalty.
Audio Recording or Screen-casting Feedback
Audio or video recordings of feedback are becoming an increasingly popular method of connecting with students and offering feedback on assignments. Biology Professor Kristen Seda often creates short audio/video recordings either for each individual student or for the class as a whole. Seda will also share
recorded reminders
or messages of encouragement with her students. Though it can be effective, there are some items to consider, according to Seda's list of pros/cons:

Audio or video recordings can be created directly in the Canvas Speed-Grader by clicking the "play" icon under the comment text box. The same tool can be accessed in the Canvas Teacher app by pressing the plus (+) icon to the left of the comment box. This can make it easier to fit in grading into the busiest schedules.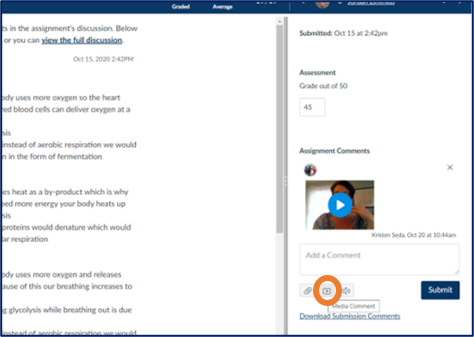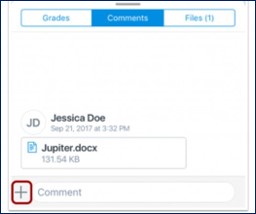 Speed-Grader Canvas Teacher App
Seda likes using audio and video comments because it adds a bit more of a personal touch to her feedback, especially when teaching courses online. If the video is recorded using Canvas Studio, instructors can also track who has watched the video and who has not. Another option to ensure students review and apply the feedback is to require follow-up assignments that ask students to use or acknowledge the feedback (journal entry, discussion post, etc.).
Part 3
summarizes Professor Lauren Boasso's tips for saving time using Turnitin QuickMarks.
Other Resources:
Rubistar
– This free tool helps instructors create quality rubrics. It guides the generation of rubrics with well-defined step-down criteria.
Minimal marking & grading codes
– Nancy Chick, previously of Vanderbilt University and now a Professor at Rollins College, shares these codes with her students, so she can use abbreviations and symbols to give feedback rather than repeatedly writing lengthy comments.
End-of-semester student self-assessment
– This sample assignment asks students to reflect on the work they completed and the feedback they received over the course of the semester and ultimately suggest the grade they believe they deserve. This information is brought to a conference with their instructor as part of a final portfolio assignment. ​
Ungrading
​ – Jesse Stommel, co-founder of
Digital Pedagogy Lab
and instructor at University of Mary Washington, describes ways to "ungrade" by utilizing grade-free zones, self-assessments, process letters and more.
Contract grading (example)
– From Ryan Cordell, professor of English at Northeastern University, this is a live example of a grading contract used in Fall 2019.